Family blog
Subscribe to posts
Seems like blog is almost history.  Given that today marks a significant event in our family history thought I should blog. Today Ket cat, aged 17 or more had a one way trip to the vet.  It would be a gross exaggeration to say Ket was a much loved cat, or even a lovable cat.  Mostly Ket used us for food, warmth and to open the door for her life.  Tony often commented that for Ket the other side of the door was where she wanted to be.  
It is over 2 years ago we were told she likely had kidney trouble and that she could last for some time but at a point there would be a sudden detrioration.  That point happened sometime over the last couple of months- and even more noticeably over last two weeks.  Her sight went - which meant finding her food bowl got hatter and harder, it also meant she walked into doors, no longer through them and being inside was just too scary.
She was not going to last the winter.  
With all that, and knowing for at least 2 weeks that the end was nigh I was still feeling a bit stunned when calling the vet today I was offered a 5pm appointment- and deed was done by 5:09pm.  There were in fact 2 needles - a bluefish colour liquid was a general sedative which we saw being administered.  The yellowish green needle, containing the same drug as used for lethal injections in the US was administered by IV after we left and while she was already asleep.  
Thought this story might make you smile - seems too long for a Hangout 
This morning one of our admin team asked me if I knew anything about a Paypal donation from Malta - my answer was No but it turns out I did…..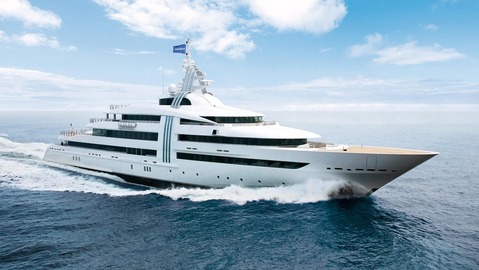 On Monday Peter, the Arthritis NZ President  was telling the Board members that in the weekend he hosted Reinhold Wurth, who is No 143 on the Forbes Rich List, at his bach in Waipu.  One of Peter's daughters is the nurse/crew member on the Wurth super yacht, pictured above, which has been cruising around NZ for a few months.  The Wurths were keen to experience a local family meal . . . 
For the lunch Peter provided his specialty "camp oven potatoes" and Sue, his wife,  provided a cake for one of the Wurth granddaughter-in-laws birthday.  The Wurths provided everything else (food, wine, crockery, cutlery, tables, chairs, the band and so on) 
Anyway Mr Wurth wanted to pay Peter for the use of his property - Peter declined.  Later on Peter gets a text from his daughter to say they are keen to cover their costs.  Peter suggested a donation to Arthritis New Zealand and said you can do this easily through the website. 
The $2000 from Malta is explained…….
There was another delightful part to the story which is the band.  Peter said that he got this text to say is it OK to bring a band?He thought it would be fine - wondered which local chamber group might be invited.  Turns out they had booked Fat Freddie's Drop; Catchafire and Anika Moa - were going to bring one or 2 of the three. But during the week when the yacht was in the Bay of Islands they

had

 a

local

 duo come on board to entertain one night.  Mr Wurth so impressed with them he cancelled the pre-arranged bookings (assume they were paid) and invited the 2 locals from Paihia or wherever. 
Adrian and I did enjoy the tour of the MCG (Melbourne Cricket Ground) and the two themes throughout were scale and history. They do both well.
The little old man who ran the tour was very spry hustling us along at quite a pace and seemingly knowing a great deal  about the MCG. He's been a member longer than you guys have been alive so not surprising.
The grounds themselves were being used by keen young cricketers who can now tell their friends that they trained on the MCG.
The plushness (a word?) of the members areas compared to the relatively sparse press facilities stood out for me but we may not consider that the very partisan commentators who torment us when we watch cricket from Australia deserve any better.
Noticed by the end that the elderly guide was flagging a little with the stairs, but he was still pretty impressive! It was a privilege to visit but when cricket is at the MCG just now, I can never see the yellow seat that shows the biggest six ever struck!
http://www.bbc.com/news/world-us-canada-38664789
Nice quote from The Republic by Plato and read by Andrew Sullivan
The presence of one or sometimes two dogs, one of which is extremely quick, at Divers has come as a shock to the cats here. We believed that they would all be gone but it turns out that they couldn't catch Cinnamon who had previously been having the vet's version of psychological treatment. Think it will be undone now. 
Being chased by enthusiastic dogs brings to mind (for you especially Adrian) the song, 'Oh Cinnamon, where you gonna run to?'
The little grey cat they say is a stray was also quite quick when the dogs chased it upstairs last night...looks like it must have escaped through a window. It lives under the house and Lily is often close to getting stuck squeezing as far as she can into the small space the cat uses!
Here's a picture of a ginger cat; couldn't get one of Cinnamon himself as he is elusive. Doesn't quite capture the harrowed, cat on a hot tin roof aspect of Cinnamon tho. He also has more ginger.
Yesterday we generated a bit of hangout conversation over words that are being erased from dictionaries as new words come along. Our family may singlehandedly try to revive twice - because as Mark says who wants to waste the time it takes to say "two times"
The 2016international word of the year is "post truth" - used 2000 percent more often in 2016 than in 2015 according to the Oxford Dictionary.  I like the definition- referring to a time when truth has become irrelevant.  Sad that we live in such a time, at least for politics if not for our family.
And a US poll has nominated "Whatever" as the most annoying word for 2016 for the 8th successive year. You'd think if 40% of Americans find whatever so annoying they'd stop using it! 
British colonial history is full of less than flattering examples of how the British governments of various hues exploited countries and indigenous populations in the Empire/Commonwealth  This summer in NZ the movie " A United Kingdom" is showing. It is based on Botswana and the British Government treatment of its King Seretse Khama and his wife Ruth.  The time is 1947-1956 so Labour Govt under Atlee followed by Conservative Govt under Churchill. I am reading the book that forms basis of movie -Colour Bar.  Basic story is man from Botswana studying in London meets British girl, falls in love and marries her.  Now at this stage in the story we could do some empathising - we know a similar tale about man from British colonies moving to London and falling in love with British girl ....However we are fortunate that our experiences are not at all similar (I hope). Both families, British Govt & Church of England  all opposed marriage British Govt ended up exiling Seretse basically because the marriage offended Sth Africa.
The movie simplified the politics according to the book but basic facts well laid out.  Not only were British Govt wanted to keep Sth Africa happy as apartheid laws was being brought into force but were also trying to get access to diamonds that were being discovered in Botswana.
I took Nana to movie, because she of course was aware of the marriage and the furore - it being when she was an adult living in Britain. She thinks she attended a rally for the Khamas.  If you ever want to feel very young take a 90 year old to a 12:45 screening of a recent historical movie.  I may have been the youngest person there.  Nana at 90 probably wasn't the oldest!!  Zimmer frames abounded. Theatre full.
And in the last word not only did the Khamas get to go back to Botswana but Seretse fought for Botswana to become an independent country; he was first President and one of their 3 sons is current President.  And marriage did last - Seretse died in 1982 and Ruth in 2002.  Not one of the times where we can be proud of the Commonwealth heritage
As one does on a lazy holiday I was doing quiz today.    This question  stumped me " To what was Sir Herbert Beerbohm Tree referring when he said " It adds terror to life and makes death a long-felt want". 
Now apart from never having heard of a person with such a wonderful name ( Maria and Tim should Honeysuckle turn out to be a boy Herbert Beerbohm Tree Johnston is quite a name) the choices for answer were motorcar; cigarettes or the gramaphone.  
I got it wrong 
I have had to find out about the man behind the wonderful name - British actor and theatre manager at end of 19th century (he died in 1912); a contemporary of Oscar Wilde - who is reported to have described my new friend Herbie as "A charming fellow, and so clever: he models himself on me"
He appears to have had a way with words - like this quote " He is an old bore. Even his grave yawns for him" and " Everyone is a potential genius until he does something". 
And btw answer is gramaphone 
http://www.atlasobscura.com/articles/why-are-people-seeing-red-over-spaghetti-bolognese
Sounds like the most egregious thing about this concoction, if you are from Bologna, is that the dish is attributed to your town given that it doesn't exist there. Worse, the combination of the 
 'crumbled meat',
 tomato and pasta is all wrong.
In Bologna you apparently don't eat spaghetti but usually tagliatelli which you have fresh not dried.Those fiendish  British also added herbs where the classic dish doesn't have them.  
So as you eat your bastardised classic Bolognese, I think the key learning is that there is so much in life available to offend those who are of a mind to be offended.  For example in the picture below I notice there is a new fangled stemless wine glass, which shouldn't be pictured with a classic dish. Can't tell whether there are herbs as well as spaghetti in the bolognese or not tho...