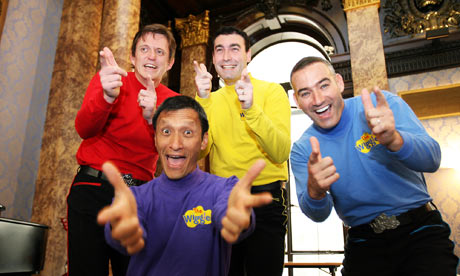 What do Jeff Fatt (aka the purple Wiggle), Elvis. Costello Oprah Winfrey and Matt Groenig have in common?  Yes they were all born in 1954 which means they are older than your father and me!  
So it was a good year for entertainers and dictators according to Adrian's research.  We started talking about this as we were discussing that 3 of the 4 Wiggles are moving into back room roles - ie no longer performing but taking the $$$$.  We were looking at the picture of the Wiggles and realized they weren't young.  It seems That 21 years of continuous touring playing to packed houses of preschoolers is somewhat tiring.  Apparently the Wiggles were for 4 consecutive years the highest paid Australian entertainers.
In a real shock move one of the new Wiggles is a girl!